Yaniv Korman
Landscape Designer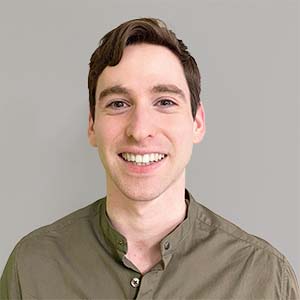 Growing up among the wild meadows and olive groves of the Ayalon Valley in Israel, Yaniv developed a special interest in the relationship between local communities and their landscapes. Yaniv served for three years as a sustainability project manager at the Environmental Unit in the IDF, which was followed by a B.A in Human Ecology at College of the Atlantic focusing on Sustainable Planning, History, and Botany. For his senior project he led an adaptive reuse project of the neglected Sunken Garden at the heart of the college campus. He used the funds awarded by the Food and Sustainable Agriculture Systems (FSAS) Fund and the Lorrie Otto, Seeds for Education Grant In order to turn the hazardous rubble into an edible haven of native plants.
At Cornell he worked with Professor Kathryn Gleason, and other archaeologists to reveal the ancient foundations of landscape architecture and discover horticultural practices and water management technology. He created various reconstruction drawings that were published in scientific journals such as STRATA, Quaternary International, and Vegetation History and Archaeobotany. As part of his master's thesis he received the Michele Sicca Research Grant to study and create a guideline for a Research-Preserving Rehabilitation Process of Gardens at Archaeological Sites.
Before joining Starr Whitehouse, Yaniv worked as a gardener, stone mason tender, site contractor, and interned as a landscape designer for landscape and planning firms in Tel Aviv and a design build firm in Maine. Yaniv joined the Starr Whitehouse team hoping to preserve endemic species, improve food security, strengthen impoverished communities, and create inspiring spaces for spiritual growth.
Representative Projects:
Nissequogue River State Park Master Plan, Kings Park, NY
Arverne East Nature Preserve, L+M Development Partners, Queens, New York
Marsha P Johnson State Park Public Outreach and Park Design, Brooklyn, NY
Manhattan Greenway Harlem River Waterfront Park Design, New York, NY
Southwest "Resiliency" Park Expansion, Hoboken, NJ
Residential Garden, Northeast Harbor, ME*
The Sunken Garden, Bar Harbor, ME*
Residential Garden, Tel Aviv, Israel*
Ecological Water Garden at Mahindra United World College campus, Paud, India*
Greywater Recycling system, Maccabim, Israel*
* Work completed prior to joining Starr Whitehouse