Janet Broughton-Murray
Associate, Assistant Studio Director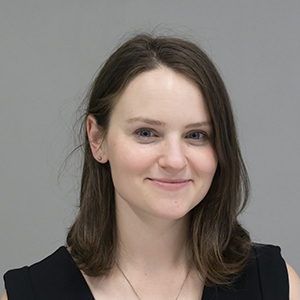 Janet Broughton-Murray's designs revolve around the optimization of a space to meet the complex set of separate but interrelated needs placed upon it in the urban environment, with particular attention to how public spaces can provide environmental services concurrently with diverse human experiences within the landscape. Janet's background in soil science has given her an appreciation for evidence-based design solutions as well as an intense curiosity about the influences of design intervention on existing ecologies. Janet explored this interest in her thesis at UIUC, which studied how the built environment structures the forces and flows that act upon a space. Janet also brings experience in urban agriculture, flexible design solutions, resiliency, and strong community engagement in the development of three community gardens in the South Bronx, East Harlem, and the post-Sandy Rockaways.
Drawing from her experience on large, complex projects such as the Battery PlayScape, Janet is skilled at coordinating between clients, consultants, and design staff to move projects forward. To date, she has applied project management, design, and construction administration expertise toward vital roles in the design and administration of the Battery PlayScape, Rodman's Neck NYPD Training Facility, and Hoboken Southwest Park, among other projects. In addition to her role in project management, Janet Broughton supports the Starr Whitehouse team as Assistant Studio Director. She brings her scientific training and analytical thinking to support project managers in data management and evidence-based decision-making, facilitating rigor of thought and application in meeting the specific needs of each project.
Representative Projects:
Battery PlayScape, The Battery, New York, NY
Roswell River Parks, Roswell, GA
Freshkills South Park Master Plan and Phase I, Staten Island, NY
Spring Creek, New York, NY
Hallets Point Esplanade, Queens, NY
Southwest Park, Hoboken, NJ
Norwalk Aquarium, Norwalk, CT
Battery Coast Guard Monument, The Battery, New York, NY
Randall's Island Hell Gate Bikeway, New York, NY
Rodman's Neck NYPD Training Facility, Bronx, NY
DASNY El Regreso Men's Dormitory, Brooklyn, NY
Willis Avenue Community Garden, Bronx, NY*
La Casita Community Garden, New York, NY*
Seagirt Boulevard Community Garden, Queens, NY*
Volunteer Leader for MillionTreesNYC projects, New York, NY*
*Work completed as project manager for the New York Restoration Project.