Huong Dinh
Landscape Designer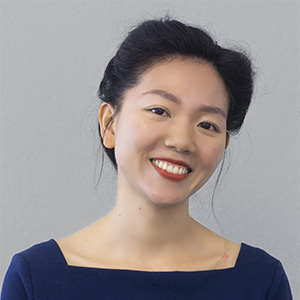 Landscape Designer Huong Dinh's interests are shaped by her experience growing up in Vietnam—a country whose extensive coastline is experiencing a development boom even as it finds itself at risk from climate change. In addition to the technical, financial, and political complexities of large-scale resiliency projects, she is drawn to communicating the site- and body-scale experiences of landscape design—revealing the latent beauty of sites and experimenting with digital and traditional fabrication techniques such as laser cutting, 3D printing, metal bending, screen printing, and weaving.
At Starr Whitehouse, Huong lends her analytic and graphic skills to visioning, problem definition, and project visualization. She has contributed renderings and visual communications to Starr Whitehouse's work on the Thompson Amphitheater in Watertown, the VIA 57 West Garden in New York City, and multiple project proposals. Huong has also contributed construction documents at Phipps Houses' Lambert 5 Development and supported construction administration at DDC's 116th Police Precinct Station House.
Representative Projects:

Tibbetts Brook Daylighting, Bronx, NY
Orient Point Residence and Landscape, Long Island, NY
Union Square Streetscape and Lighting Plan, New York, NY
Nissequogue River State Park Master Plan, Kings Park, NY
Thompson Park Amphitheater Concept Plan, Watertown, New York
Marsha P Johnson State Park Public Outreach and Park Design, Brooklyn, NY
East Shore Shoreline Parks Resilience Plan, Staten Island, NY
Marcus Garvey Extension, Brooklyn, NY
Compass 6, Bronx, NY
Nissequogue River State Park Master Plan, Kings Park, NY
Promenade Hill Park, Hudson, NY
Lambert 5 Development, Bronx, NY
116th NYPD Precinct Station House, Brooklyn, NY
Thompson Amphitheater, Watertown, NY
Harlem River Greenway Link Study, New York, NY
Jones Beach Energy and Nature Center, Wantagh, NY
Jones Beach West Games, Wantagh, NY
VIA 57 West, New York, NY
LandCare, Philadelphia, PA*
Grand Park, Clarksville, IN*
Bayside Resiliency Study, Boston, MA*
*Work completed prior to joining Starr Whitehouse.